Customer experiences
User experience Easy Rider tricycle - Rian from Brabant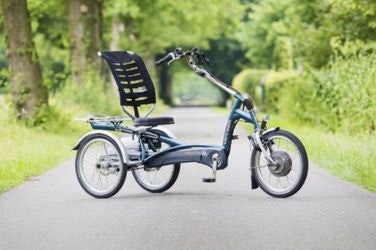 My name is Rian (69) and I come from Brabant, the Netherlands, where I live with my husband. Because I have two muscle diseases, namely Pompe's disease and post-polio syndrome (PPS), I have little stability and no muscle strength in my arms. Because I still want to continue cycling, I decided to buy a bike that makes me feel comfortable and safe.
From a tear to a smile
Because of my two muscle diseases I went to an open day in my neighborhood and there someone pointed out a tricycle to me. As I got on the first tricycle, I couldn't steer at all. But then the man who helped me with an Easy Rider tricycle came and that went much better! My sister had exactly the same problem. She also has Pompe's disease, and they came home to her, so she could try a tricycle. At first, they had another tricycle with them, and my sister was in tears because she couldn't ride it. The second time they came to her they had two bikes with them, one of which was the Easy Rider tricycle. After a test ride on the Easy Rider she came back smiling: "Oh, I'm fine!" So, we both don't manage to cycle on a 'normal' tricycle, I even thought for a moment that it was because of that bike and that nobody could cycle on it. My husband then tried that bike, and he cycled right away! But fortunately, the Easy Rider is going very well, maybe that's because of the balance we don't have because of our muscle diseases.
Purchase Easy Rider tricycle
I've looked at Van Raam's website a couple of times, and I was able to find everything there. Furthermore, it mainly went via the Wmo (Social Support Act), where I submitted an application. Pretty soon someone came to visit me and within a few weeks I had the bike inside! The contact went well and fast, I am very satisfied with that. Furthermore, I didn't have to choose so much, but I am very happy with it. I have had the Easy Rider tricycle since November 2019 and I think I've already done between 150 and 200 km on it.
Extra options
The options I have on the Easy Rider tricycle are a mirror and an extra heavy battery. I think a mirror is ideal, that's just a must, it should come as standard and I think it's also a condition for buying a bike.

The battery I don't know exactly. It does work for a long time, but I have to figure that out a bit further, especially in combination with the VanRaam E-bike app. Of course, you have to have cycled a couple of kilometers before you have it all clear. Then maybe after a while it will get better. But apart from that I am very enthusiastic, he cycles very relaxed!
The Easy Rider looks very sporty, there are really kids who see me and say: "Oh mama, that's a beautiful bike!" That's really nice.
Rian from Brabant
Positive points on the Easy Rider tricycle
I especially like that getting on and off is super easy and safe and that if you can stop at any time. I also never thought about a backrest for the bike, I thought: well, that's not necessary at all. But still I like that very much, he cycles much more relaxed. He also looks very sporty, there are really children who see me and say: "Oh mama, that's a beautiful bike! That's really nice. He also looks very sophisticated, I get that kind of comments too: "So, that's a supersonic thing!"
In addition, the traffic regulations for this bicycle are the same as for a mobility scooter. I've cycled through the city a couple of times and thought there will be comments that I'm not allowed to cycle here, but not at all. I even cycled through the shopping mall and I don't get any comments or nasty looks, that's ideal.

And what I also like very much is that the bike just fits in our car, with the doors open. That way I can take it with me if we want to go further away. I am really happy with it!


Rian - Brabant
Type: Easy Rider