Customer experiences
Customer experience Easy Rider adult tricycle - Aspholm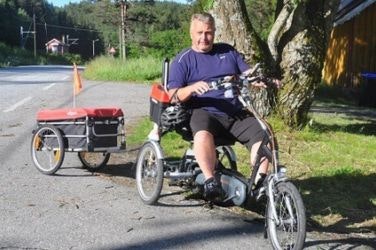 When Ragnar receives the Easy Rider adult tricycle as a medical device, a world opens up to him. The tricycle is like a medicine for him, he has come to love it. Read his message to Van Raam here.
Adult tricycle as medical assistance
"I am so pleased with the Easy Rider adult tricycle. I have been disabled for a few years now, for several reasons. When I got really ill, and the doctors explained what the result was, I was putting on some brakes in my life. It is a way of responding to defend myself. Last year I got the Easy Rider adult tricycle as medical assistance, by the Norwegian government. It has become a medicine for me, I just love it. The use of that great bike has given me a changing way of thinking, and to exercise. And it has extended my capacity and make me to dear to challenge my daily life's problems in a much better way. Result: reduction of medicine, and increasing capacity."
New insights
"My trips are often longer daytrips. So I provided and adapted a toolbox to have some tools and extra battery. I also bring some clothes, food and water. After some time, I understood that it was a new possibility, and I figured that I could use the Easy Rider adult tricycle more for daily use also. Then I changed a bicycle trailer, made some adaptions and tried to fit it for use with the Easy Rider. It works great, and it is so nice to have a purpose to go riding more often. Motivating."
Great customer service
"I have used the Easy Rider tricycle since august 2021. I try to make daytrips 1,2,3 times a week. Of course depending on my changing conditions. I also will mention that the company in Norway, with the agent in my area, isvery helpful. Great customers service! Hjelpemiddelspesialisten.no"
Sharing my story
"I wanted to send my story to Van Raam, because maybe some others also can benefit from something like this. Anyhow, thank you very much for a great product. You make my days much better!"

Ragnar Aspholm - Arendal, Norway
Bike: Easy Rider adult tricycle