Customer experiences
Customer experience tricycle for adults Easy Rider - Brigitte van der Laan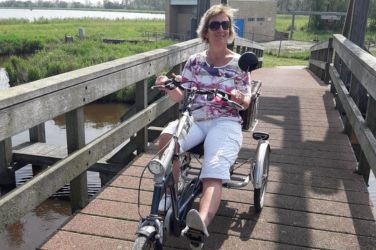 In 2012 had surgery to remove my brain tumor. It has partially been removed. Post-surgery I have been suffering from sequelae. To me this means that I experience difficulty talking and controlling the left side of my body and I have balance issues.
Rehabilitation after non-congenital brain disorder
After my surgery I spent a long time at a rehabilitation center. I would often go cycling with my physical therapist. Visitors, swimming and cycling were the highlights of my day. The first two years after my surgery I frequently rode a recumbent tricycle, until I met Diederik (my boyfriend) three years ago. We got in touch through Facebook. Diederik had had a cerebral infraction in the past and in 2014 I complimented him through Facebook on how much he had achieved with his tricycle since. One thing led to another and how we are in a relationship.
I complimented him through Facebook on how much he had achieved with his tricycle since.
Brigitte van der Laan
My first experience with Van Raam's Easy Rider
Back then Diederik rode (and still does) Van Raam's Easy Rider tricycle about which he was so enthusiastic. After trying his tricycle I knew for certain… I wanted it too! Through the WMO in Delftzijl I was able to get one myself. The extra options I added are a rearview mirror, foot fixation and a wicker basket. In case something is wrong with my Easy Rider, I reach out to RSR. They provide the service for the bike and come to my house with their service bus. If there is anything I would like to have adjusted to the tricycle, I have to apply for it first. The WMO subsequently approves or dissaproves the request.. I am very satisfied about the quality of the Easy Rider. I have only had a flat tire while on my way once since the tricycle was delivered to my house. Luckily this tire could be replaced on the spot by someone from RSR with a service bus. I love riding the Easy Rider!
Pedaling with electric support
My easy rider is not equipped with pedal support. I am 44 years old and I am perfectly fine without it. Sometimes I think it would be nice to have, but since I am currently "borrowing" it from the City of Delftzijl, it is not up to me to decide. Fortunately, my abilities are still improving, which is due to the fact that I cycle frequently. I hope to be able to ride a two-wheel bike in the future. Perhaps I will get the two-wheel Balance from Van Raam.
Cycling with all (your) heart
I use my tricycle for many purposes. This way I try to cycle every day. Sometimes I order a cab and ask the driver to take me and my Easy Rider so I can go for a ride in a different area / neighborhood. It is absolutely ideal.
I recently participated in the "living with brain damage on Tour", a six-day tour during which we cycled 50 to 60 kilometers per day. All participants have an acquired brain injury and rode their special needs bicycles. It is wonderful to see how a special needs bicycle can contribute to people's freedom of movement.
This is what I have attached to my tricycle
A few years ago, when my son was still unable to cycle independently, I found out that the Easy rider can also be used by multiple people at the same time. We mounted a cycle trailer to my Easy Rider. This allowed us to cycle together. In the meantime my son has learned to cycle on two wheels and the only thing I have on the back of my tricycle is a wicker basket.
Visiting Van Raam
Last year Diederik and I went to Varsseveld to try the marvelous bicycles and tricycles from Van Raam. This was a wonderful experience!

Brigitte van der Laan - Spijk (the Netherlands)
Model: Easy Rider