Customer experiences
Customer experience Fun2Go double bike - Isabelle Feburier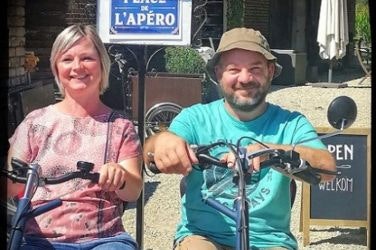 Isabelle has hesitated for a long time to buy a double bike, but made the decision a few months ago. She is very happy with the electric Fun2Go double bike and does not want to live without it anymore. She sent Van Raam an e-mail about her findings.
I can't find the words
"We have had our Fun2Go for about 5 months now. In those 5 months, I started writing an email each time, but every time I couldn't find the words. How do you describe in a short email what this bike has done to me and my family? The Fun2Go double cycle has really changed our lives! And this is putting it mildly. We are over the moon!"
So much more than just a bike
"In 5 months we already have over 1200 kilometers in our legs. I used to ride on the back of the electric scooter without being able to chat. Now it's a fun outing with my man and we can look around at our leisure. How much beautiful nature I have seen in the last few months is indescribable. I feel so lucky, to be able to sit next to my man and ride my bike again. For so many it's just a bike, but for us it's so much more."
The Fun2Go electric double bike: a hit
"We get a lot of positive feedback from people. For us, the electric double bike is a hit. We hesitated for so long, but if we had known this in advance, we would have done it much sooner. The double cycle is worth every penny!"

Greetings,
Isabelle, Wouter and Maya

Isabelle Feburier – Koolskamp, Belgium
Bike: Fun2Go double bike