Customer experiences
Customer experience Maxi Comfort low entry bike - Gerda Feteris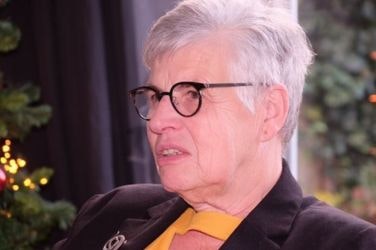 My name is Gerda Feteris (67) and I live with my husband in Gelselaar (the Netherlands). Gardening and cycling are my biggest hobbies. I used to cycle on a normal e-bike, but I couldn't get on and off anymore. This made me feel insecure and I hadn't cycled in a while, so my husband and I went in search of a special needs bike.
Tricycles corny?
Through work for the Wet maatschappelijke ondersteuning (Wmo) we were familiair with Van Raam. However, we still had a corny idea about tricycles. We then first started a project with side wheels on my e-bike, but this failed completely. The next tip we got was a tandem, but a very professional bike shop showed us some pictures of Van Raam bikes and that same day we visited the Van Raam website and scheduled an appointment for a consultation at the showroom in Varsseveld.
Consultation showroom Varsseveld
When we came for an appointment we were received very warmly. The corona rules were observed perfectly. While making the appointment on the website, there was an opportunity to indicate what limitations would cause us to look at a Van Raam bike. The consultant had prepared herself well with this information, with the result that she first showed us another bike, the Maxi Comfort low entry bike. A different one than the one we had chosen on the website, but she was absolutely right! After a period of not being able to do an activity, it's always exciting to start something up again. Compliments for her calm and trusted way of explaining and guiding, so the choice for a special needs bike was quickly made. She also showed us the difference with the bike we had initially chosen. Finally, she gave us honest advice about the choice of extra options and a possible heavier motor or battery.
The Maxi Comfort low entry bike gives me confidence and security to go out again.
Gerda Feteris
Ordering the Maxi Comfort at a Van Raam dealer
We ordered theelectric low entry bike at bike shop Cornelese in Neede. The printout we received during the consultation at Van Raam was of great help. Cornelese delivered the Maxi Comfort to our home and provided additional information. We could always go to him with questions. Once we had a crooked lock and had to return the battery. After a phone call with Cornelese we could go back and we were helped immediately. In short, we are very satisfied with the purchase and service up until now.
Additional options
As additional options I have a stick holder and a mirror on the Maxi Comfort electric bike. I use the Maxi Comfort mainly for recreational purposes. My husband and I don't go for the many kilometers, but for kilometers we can enjoy. During vacations and weekends out, we like to explore our surroundings by bike.
First findings
We have the Maxi Comfort electric bike for two months now and despite the fact that the weather is a bit less now, we have already made a number of trips. It's been almost two years since I last cycled. The Maxi Comfort gives me the confidence and security to go out again. Getting on and off the bike is easy and the starting aid is a very nice addition when starting off, for example at intersections.

For me, some positive thingsabout the Maxi Comfort low entry bike are the stability of the tricycle, a sporty looking bike and pedal support with extra features such as a starting aid and reverse option. If I have to give the Maxi Comfort a grade (including options, service and contact with Van Raam and it's dealer Cornelese) on a scale of 1 to 10, I would give it a 9!
Maxi Comfort on the trailer
To be able to use the Maxi Comfort not only for a short ride in the neighborhoord, we have modified a trailer together with the Witte Smid in Warnsveld. The lid can now carry a tricycle and two normal bikes. The trailer tailgate always remains accessible. Great for exploring other regions for one or more days. The advantage is that the trailer can also be used for other purposes.

Gerda Feteris – Gelselaar (the Netherlands)
Model: Maxi Comfort low entry bike