News
Why choose an adult walking bike?
An adult walking bike is suitable for people who have difficulty walking or have problems standing for long periods of time. It is therefore a good alternative to a rollator or wheelchair. Read in this article 5 reasons to choose a walking bike.low step troughlonger distanceslightweightcustomized
5 reasons to choose a walking bike
There are various aids available for people who have trouble walking or who experience problems when they stand for too long. In this article we give you 5 reasons to choose for a walking bike, for example the Van Raam City walking bike.
1. Staying mobile longer
On a walking bike you stay mobile longer. The body weight is carried by the bike, which makes walking less of an effort. Getting on is easy and safe because of the low step trough and the handbrake which fixes the walking aid when getting on. Is a wheelchair not yet necessary and does a walker not have your preference? With the Van Raam City, you can walk longer distances again.
2. Relieves the joints
Because the body weight is carried by the saddle, the back, hips, knees and ankles are relieved. This makes it possible for people with joint pain to walk longer distances. Walking takes less effort.
3. Easy to take with you
The City walking bike of Van Raam is lightweight and foldable. This makes the balance bike easy to take with you by car, but also in public transport.
4. Enormous maneuverability
Due to the compact size and the two small sturdy wheels the The City is very maneuverable. The turning circle is many times smaller than for example a walker or wheelchair. The walking bike for adults can therefore also be used on narrow roads and in stores. The walking bike is allowed in many stores.
5. Multiple options possible
The City walking bike can be completely customized using additional options. In the online configurator you can for example choose a saddle that you find the most comfortable. All chosen options are immediately visible with corresponding costs in the overview at the bottom of the page.

The most popular options for the City are:
Detachable basket on the handlebars

Quick-release lever to easily adjust the handlebars

Reinforced version (up to 150 kg)

Various frame sizes available
City walking bike for adults
The Van Raam City is a walking bike for adults.View the price list, photos, product videos and specifications of the City on the product page.
Make a test ride on the City walking bike
Would you like to try out the City walking bike after reading this article? That is possible! You can easily make an appointment online at our showroom in Varsseveld. It is also possible to make a test ride at some Van Raam dealers. Please contact your local dealer.
Customer reviews
Are you curious how others experienced the City walking bike for adults? Read below some customer experiences: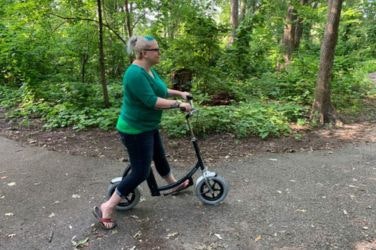 Customer experience walking aid City - Jackie Zimmerman
Via Healthcentral, a well-known American website about health, we came across an article about our City walking aid. In this article, Jackie Zimmerman, experience expert, compares our walking aid with the threewheeler Alinker walking aid. Jackie says that these walking aids are an excellent option for people with (a starting form of) Multiple Sclerosis. With the walking aid you can easily walk more and further. Read in this customer experience the experiences of Jackie about the walking aid City.
Read this customer experience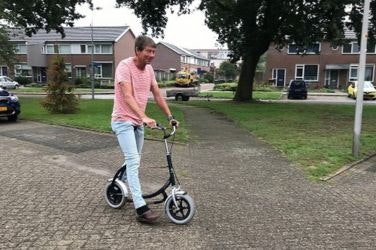 User experience walking aid City - Ronald Hummelink
My name is Ronald Hummelink and since a few months I use Van Raam's City walking aid almost daily. A tumor has caused fractures in my ankle and walking became very painful for me. I made a request through my health insurance and I got the walking aid reimbursed. This walking support from Van Raam is really ideal for me, because now I can move forward without pain and effort!
Read this customer experience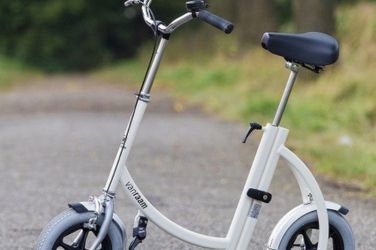 User experience walking aid City - José van Rosmalen
My walking support is my buddy. I use this walking bicycle, better said, this walking support with my every move inside my house daily.
Read this customer experience
;
Do you have any questions?
We are happy to assist you! Please check our contact page or contact us directly using the options below.