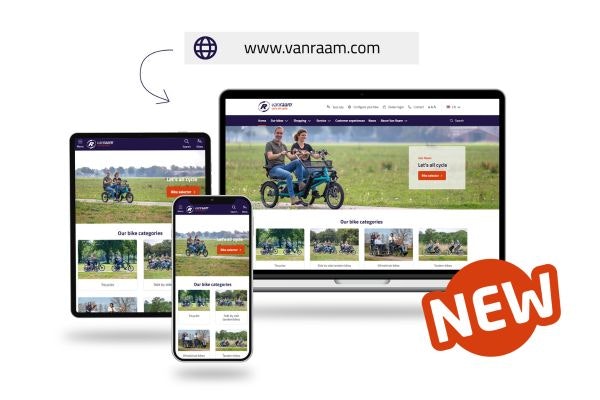 News
Welcome to the renewed Van Raam website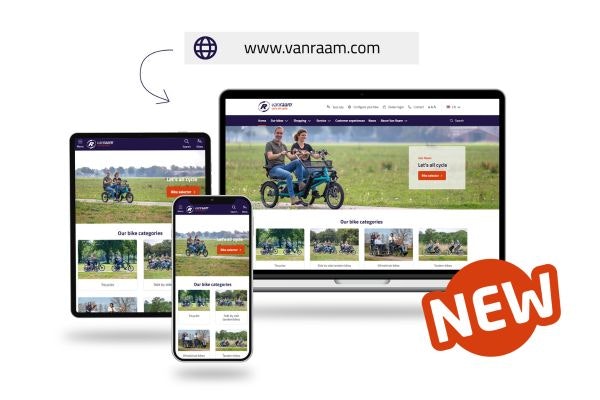 We are excited to greet you on our brand-new website, which went live on November 20, 2023. At Van Raam, we've been hard at work to create a fresh online experience. At Van Raam, "Let's all cycle" is at the heart of what we do. We want to provide everyone with the opportunity to enjoy the freedom and joy of cycling, regardless of their abilities. Our new website is a step in that direction, and we hope you're as enthusiastic about it as we are. At Van Raam, we are constantly focused on innovation and improving our products and services. We have now applied this philosophy to our website, with the aim of providing you with an even better online experience. Here's what you can expect from the new features and improvements.
What's New?
New on the Van Raam website is, among other things, a bicycle selection guide, filtering, enhanced product pages, and more information about service and maintenance.
Bike selector
Choosing the right Van Raam bicycle has never been easier. Our new bicycle selection guide will guide you in finding the perfect bike(s) based on your needs and preferences.
Filtering
Easily search through our extensive selection of bicycles, customer experiences, and news articles using filtering options. Find what you need quickly!
Additions to Product Pages
Starting prices for both pedal-assist and non-pedal-assist bicycles.

Medienmodul mit Fotos, Videos und gegebenenfalls AR- und 360-Grad-Fotos.

Kundenbewertungen zu den jeweiligen Fahrrädern.

Mögliche Optionen und Zubehör.
Service in the Menu Bar
Discover our new service page, where you can find all the information about maintenance, warranty, and repairs for your Van Raam bicycle, as well as FAQs..
Extensive Dealer Pages
Find even more information about dealers, including reviews.
What's Improved?
Improvements we've made include mobile-first design, a faster website, easier access to customer experiences, an accessible website, an expanded menu, and more FAQs.
Mobile-First Design
Our website is now designed with a "mobile-first" approach, meaning it works seamlessly on mobile devices, tablets, and computers. Thanks to the use of the JAMstack architecture, the site is super-fast, secure, and scalable worldwide.
Faster Website
We understand that your time is valuable. That's why we've ensured that our new website is faster than ever before, allowing you to quickly find the information you need.
Customer Experiences in the Menu
We value our customers' experiences highly. That's why we've given customer stories a prominent place on our website. Discover how others have experienced Van Raam bicycles and share your own experience with us.
Accessible Website
We aim to make our website accessible to everyone. We've taken measures to improve accessibility for people with disabilities, so everyone can enjoy our online content. Think of good color contrasts, font enlargement, and keyboard navigation.
Expanded Menu
Navigate easily through our expanded menu options, including shopping , service , Customer experiences, and news . Here, you'll find more information that's relevant to you.
FAQ Pages
Our improved FAQ pages are packed with answers to frequently asked questions. Here, you can quickly and easily find answers to your queries.
What Remains the Same?
In addition to some new features and improvements, we have retained the trusted Van Raam identity and information.
New Design, Trusted Identity
Although our website has received a fresh new design, we've maintained the trusted Van Raam identity. We take pride in our History and craftsmanship, and this shines through in our new online home.
Product Information, news, dealers, and customer experiences
Some information may be in a different location, but all information about our bikes, including product information and news articles, has been retained. You'll also find all dealers and customer experiences on the new website.
Request a Free Test Ride at Our Showroom(s)
You can schedule a test ride on the website..
Configurator and Webshop
Customize your Van Raam bicycle using The Van Raam bike configurator . Dealers can order bicycles or parts online via Webshop for Van Raam dealers .
Need help, questions, or feedback?
Do you have feedback, questions, or suggestions? We'd love to hear from you. Together, we can continue to improve and innovate.
Do you have any questions?
We are happy to assist you! Please check our contact page or contact us directly using the options below.