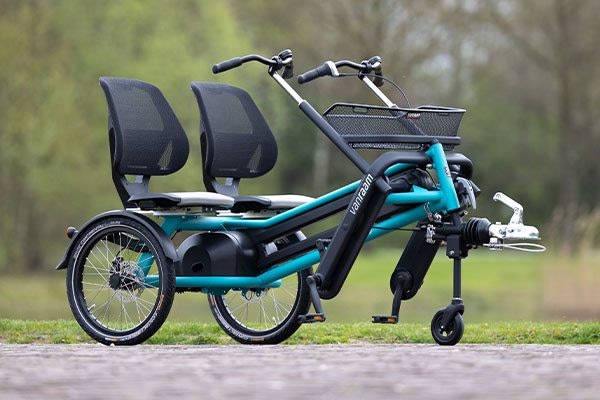 News
Video Double Bike FunTrain Trailer
Bikes

\ Side by side tandem bikes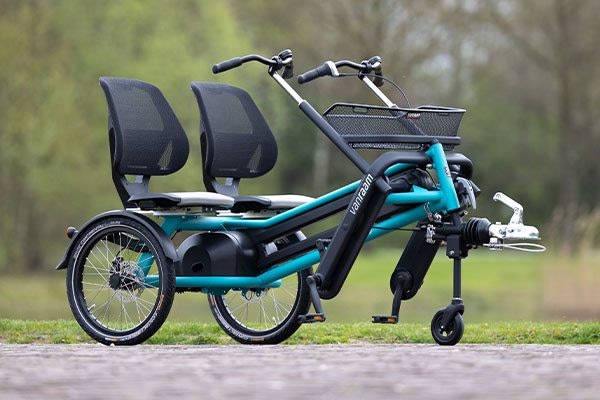 You would like to make a bicycle tour with a group of four people, but not everyone is able to ride independently? No problem. In this article we introduce the FunTrain double bike trailer and we will also show you how to use it in our instruction videos. This way you can ride comfortably with everyone in the group and have a little chat on the side.
Bicycle train: double bike Fun2Go & trailer FunTrain
The FunTrain is an automatic, hydraulically braked double bike trailer which can be connected behind a Fun2Go (with trailer connector) to form a bicycle train. Instead of having two people on a side by side tandem, you have four people with you on the bike. There is always one rider who has the 100% control over the double bike trailer and is the only one who can steer and brake. The 3 co-drivers/passengers can ride along the route.   
Video of the Fun2Go & FunTrain Trailer
In the following video you will see, some of the things:
Linking the FunTrain double bike trailer behind the Fun2Go double bike with the safety connector and folding support wheel.

Easy seat adjustment for all 4 people.

Foot fixation on the pedals.

Electrical pedal support (electrical system) with starting aid/ launch control.

Both forward and reverse driving with a switched-on pedal support.
Bicycle for 4 people
The FunTrain trailer is ideal for (nursing) institutions, homes, residential groups and other environments where supervisors want to travel with customers or residents. A caregiver can then travel with 3 residents, parents or customers.
 
Would you like to know more about the FunTrain bike trailer from Van Raam?  All information can be found on the FunTrain product page.
Test ride with the Fun2Go & FunTrain
Are you interested in a Fun2Go double bikewith the FunTrain bike trailer and want to try it out? Make an appointment in one of our showrooms in Varsseveld or contact your local dealer.
It is also possible to drive without the FunTrain trailer, just with the Fun2Go bike. Watch the Fun2Go double bike instruction video above.
 
Do you have any questions?
We are happy to assist you! Please check our contact page or contact us directly using the options below.