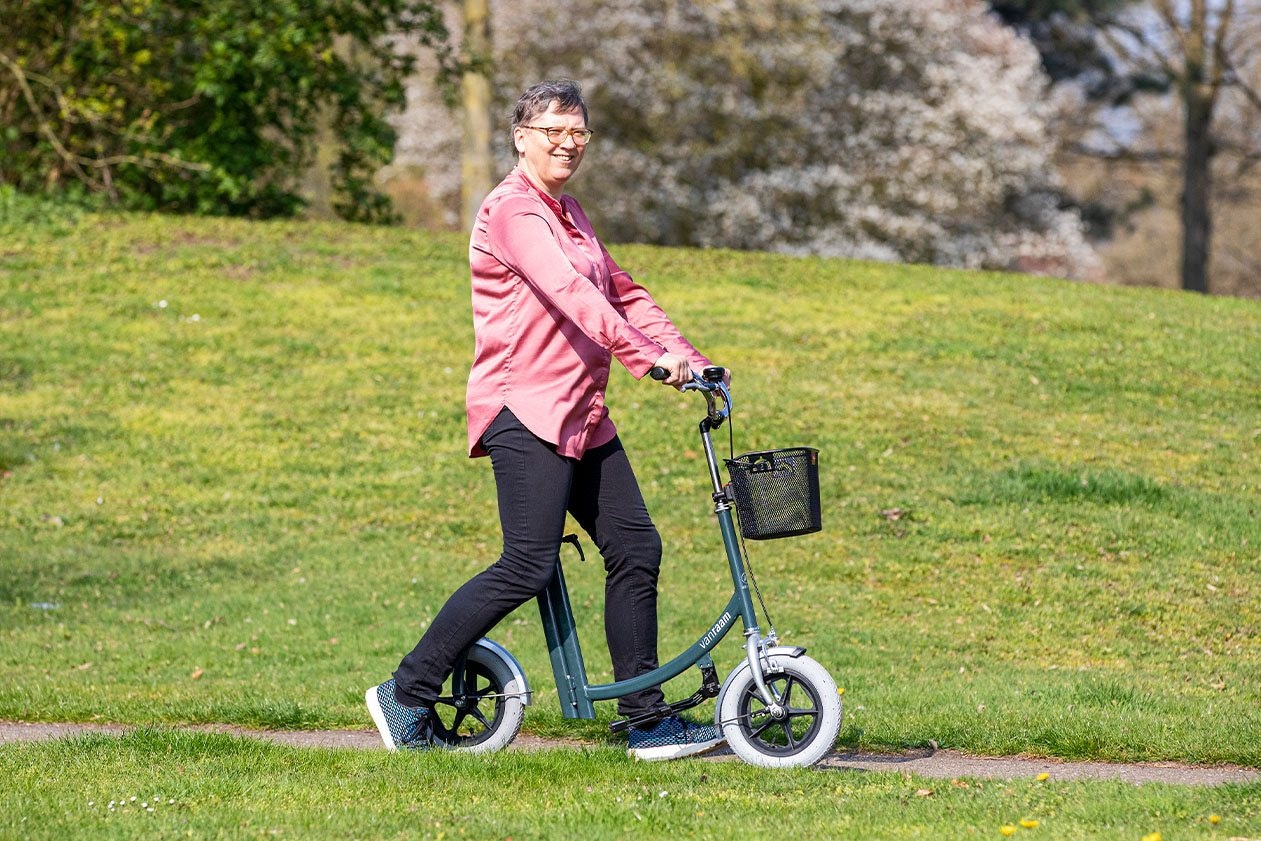 News
Van Raam City as an alternative to the Alinker walking bike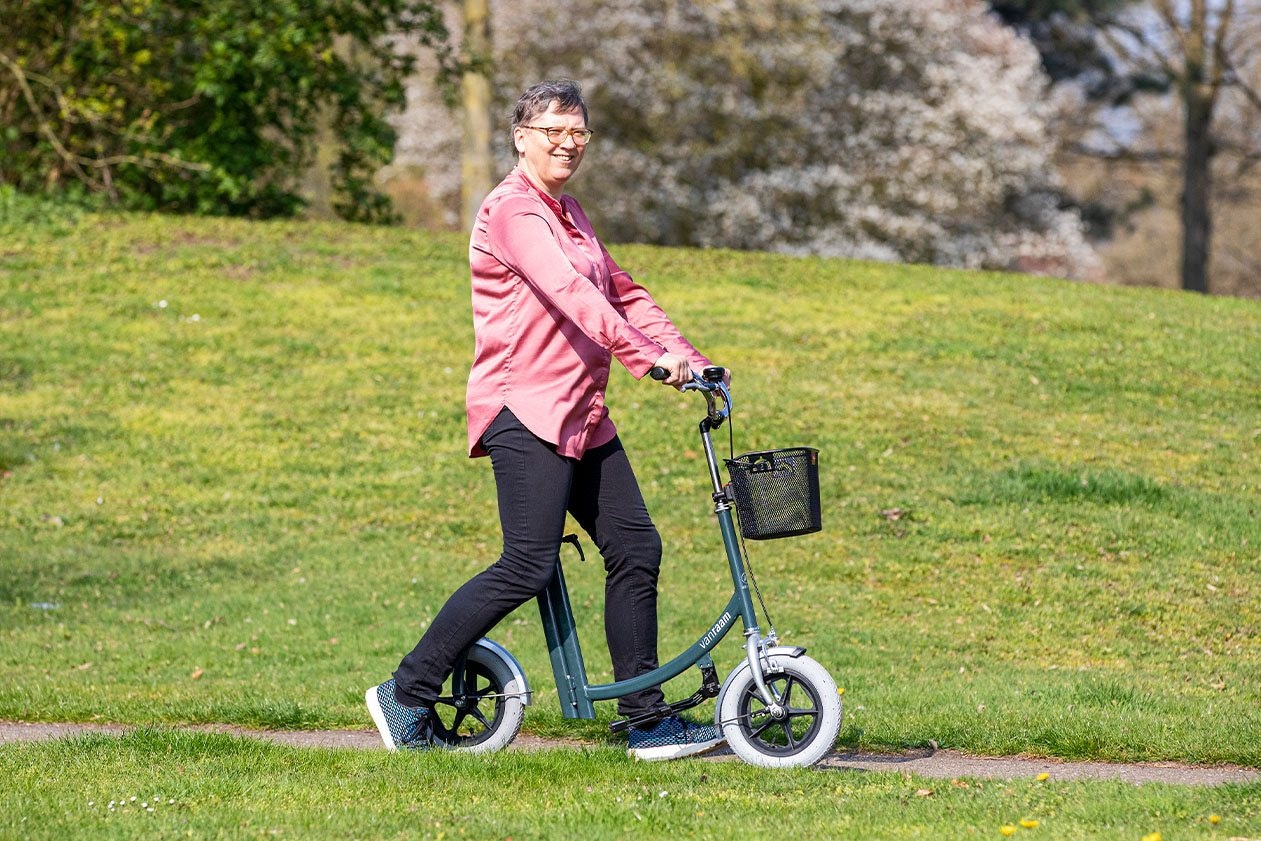 The Alinker is a walking bike with three wheels. Van Raam has a good alternative for this mobility bike. Read more about the City walking bike here and check out the benefits.
Walking bike Alinker alternative
The Alinker walking bike and the Van Raam City walking bike have the same purpose and offer largely the same benefits. You choose a walking bike if a wheelchair or mobility scooter is not (yet) necessary. With a walking bike, walking takes less effort, allowing you to cover longer distances. Your weight is carried by the walking bike, so your leg joints are relieved. A walking bike has no pedals like a regular bike, it is therefore also called a walking aid or mobility bike.

The Van Raam City walking bike is a good alternative to the Alinker walking bike. The City, unlike the Alinker mobility bike, has 2 wheels, making it more compact and very maneuverable. The City walking bike is also made to order, so it is always possible to adjust it to your personal needs.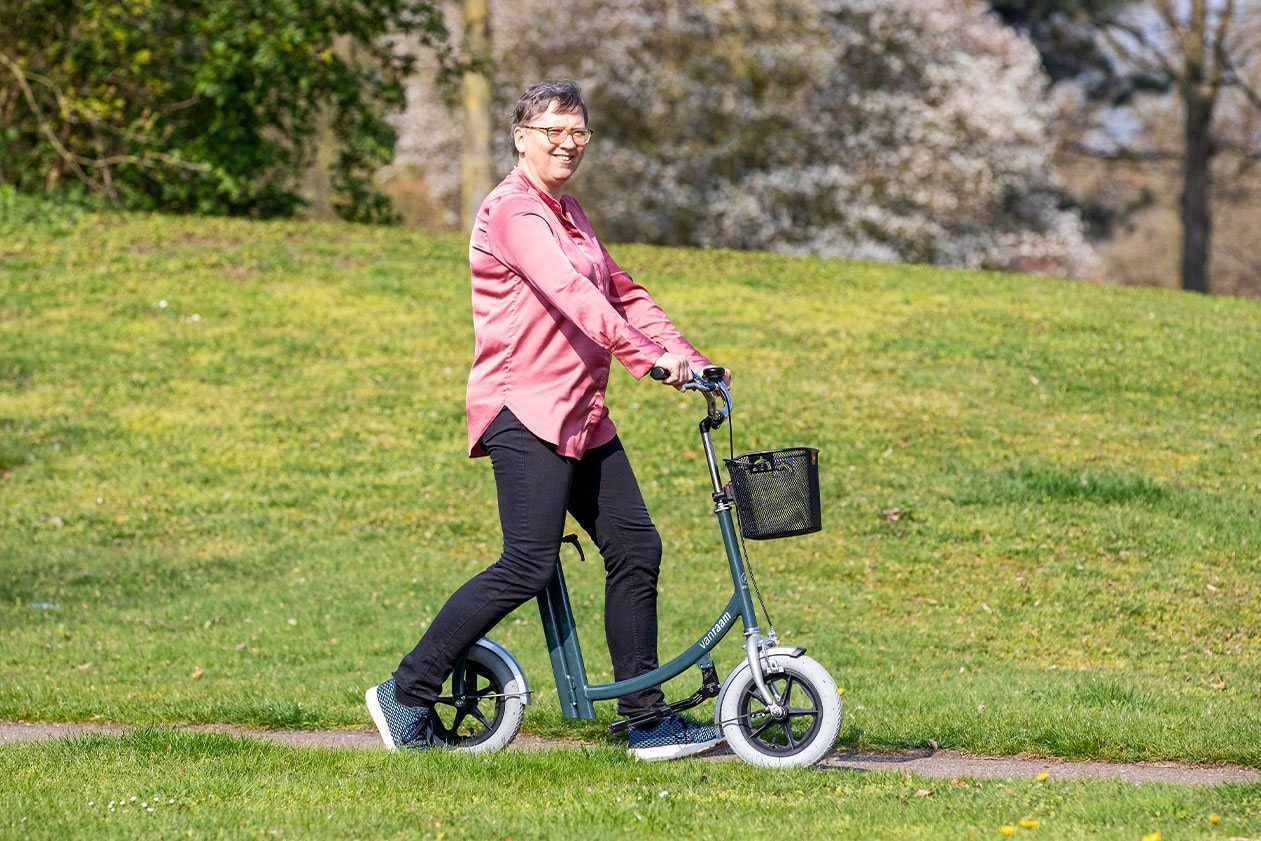 Differences and technical specifications of the different walking bikes
Alinker bike
Number of wheels: 3 
Weight: 12 kg
Colour: Yellow
Availability: Can be ordered online
Sizes: Small, Medium and Large
Maximum load capacity: 120 kg
Foldable? Yes
Price: See the Alinker website for the current price
Van Raam City
Number of wheels: 2 
Weight: 9 kg
Colour: Various RAL colours possible
Availability: Available at Van Raam dealers worldwide
Sizes: Standard frame (47 cm) or smaller frame (25 cm)
Maximum load capacity: 100 kg and with a reinforced frame up to 150 kg
Foldable? Yes
Price: Depends on your chosen options, see the price list on the product page
Van Raam City walking bike
The Van Raam City walking bike is specially designed for people who have problems walking or have difficulty standing for long periods. You can cover longer distances with the City. Your back, hips, knees and ankles are relieved, because your body weight is carried by the saddle.

The City is very manoeuvrable and has a compact size, so you can easily take it with you in your car or on public transport. Furthermore, this walking bike is foldable and has two small, sturdy wheels.
Benefits of the City:
Available with various options
Popular options for the City walking bike
The Van Raam City walking bike is, in contrast to the Alinker bike, available with many options. All possible options can be found in the price list on the product page of the City. See the most popular options below:
Detachable basket on the handlebar

Quick-release for easy adjustment of the handlebar

Ergogel saddle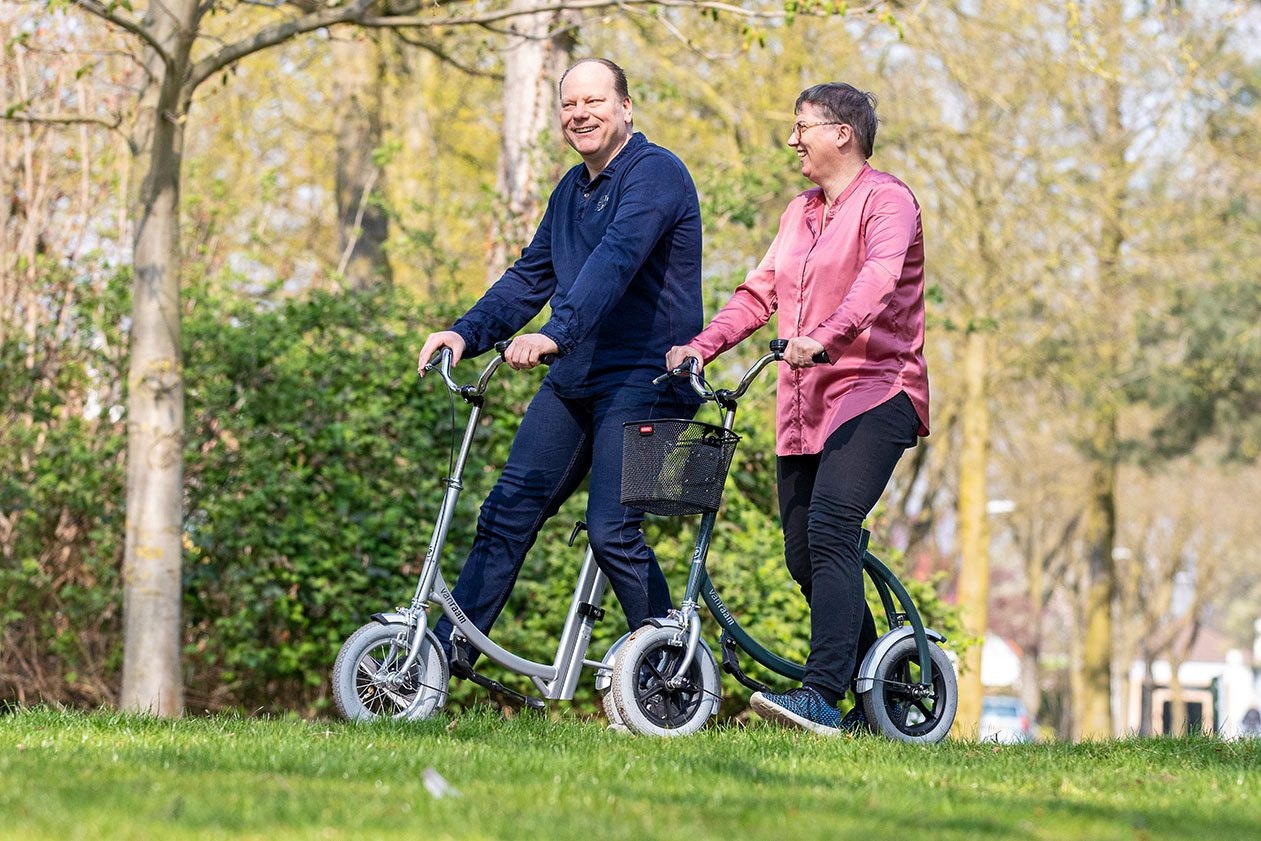 Put together your own City
Van Raam gives you the opportunity to put together your own walking bike. With the online configurator you can put together a walking bike that fully meets your needs in a few steps. You can choose the frame, the colour and if you want extra options.

Once you have assembled the City walking bike according to your wishes, you can see exactly how much your unique Van Raam bike will cost. You will receive a unique configuration code, which you can use to view the configuration at any time or to continue editing it. You can send the configuration by e-mail to your Van Raam dealer or take a printed copy to your dealer.
Customer experiences City walking bike
Would you like to know what the City walking bike is like? Click here for some customer experiences.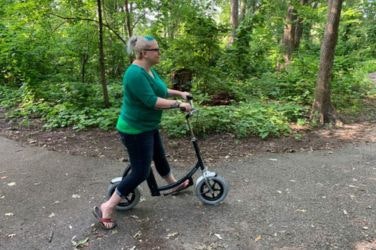 Customer experience walking aid City - Jackie Zimmerman
Via Healthcentral, a well-known American website about health, we came across an article about our City walking aid. In this article, Jackie Zimmerman, experience expert, compares our walking aid with the threewheeler Alinker walking aid. Jackie says that these walking aids are an excellent option for people with (a starting form of) Multiple Sclerosis. With the walking aid you can easily walk more and further. Read in this customer experience the experiences of Jackie about the walking aid City.
Read this customer experience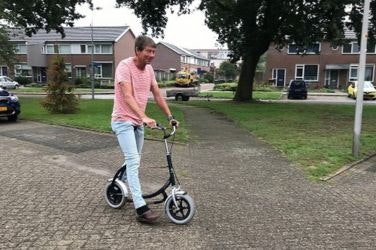 User experience walking aid City - Ronald Hummelink
My name is Ronald Hummelink and since a few months I use Van Raam's City walking aid almost daily. A tumor has caused fractures in my ankle and walking became very painful for me. I made a request through my health insurance and I got the walking aid reimbursed. This walking support from Van Raam is really ideal for me, because now I can move forward without pain and effort!
Read this customer experience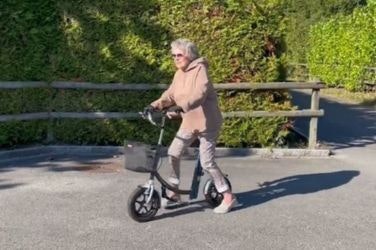 Customer Experience City Walking Aid - Luzia
Luzia from Rüschlikon near Zurich has had the City walking aid for one and a half years and is very enthusiastic about it. Through training, she has largely got rid of her back and knee pain. Read her story in this customer experience and watch a video where you can see the City Walking Wheel in motion.
Read this customer experience
;
Try the walking bike City yourself
Are you curious about the City and do you want to find out for yourself whether this bike is a good alternative to the Alinker walking bike? At Van Raam, you can make a free test ride. During the test ride, you will be assisted by one of our technical advisors and you can try out the balance bike (with or without options) on the bicycle test track. At some Van Raam dealers it is also possible to make a test ride, please contact a dealer in your area for more information.
Do you have any questions?
We are happy to assist you! Please check our contact page or contact us directly using the options below.