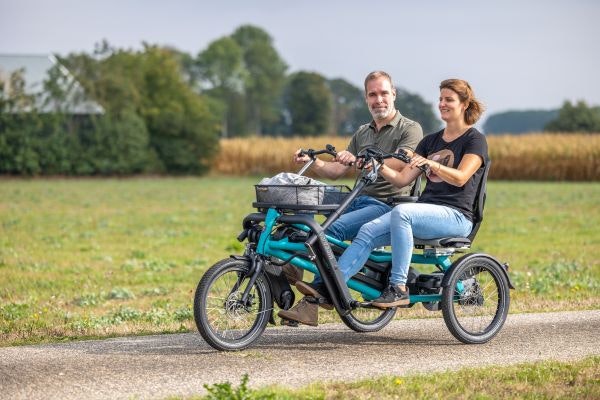 News
Side by side companion cycle, cycling together with disabled people
Bikes

\ Side by side tandem bikes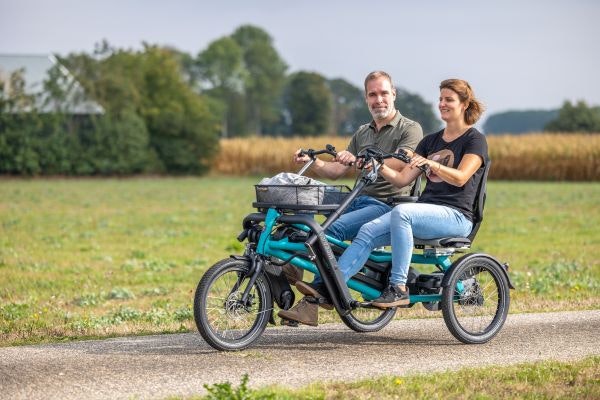 The Fun2Go side by side tricycle tandem from Van Raam is very often used in homes or institutions.
Disabled people or people with visual disabilities can easily cycle together with an attendant on this companion cycle.

Increasingly we see that this tandem bike is equipped with electrical pedal support to make it easier to travel long distances. The Fun2Go Side by Side Tandem from Van Raam is unique because the two persons are sitting side by side while cycling. You can communicate  well with each other and both have healthy exercise while cycling outdoors. Because the Fun2Go companion tricycle is so easy to set up and adjust, many different people can use it immediately. You can turn the chair and easily move it. With the switchable freewheel you can choose  if the passenger pedals fully, on its own, or not at all.

Because the side by side companion cycle has no entry anyone can easy step up. With the optional seat belts, everyone is secure on this special bike.

We see that there are many initiatives where several volunteers or caretakers of people with various disabilities ride together. For both individuals, this ride together on a companion cycle is very rewarding. In many cases, these special bikes are offered by sponsors to a home or institution. The sponsors feel involved with the welfare of the people with disabilities and support regional initiatives for social contact between the people. 
The ride together on a Fun2Go companion cycle meets this goal.
Do you have any questions?
We are happy to assist you! Please check our contact page or contact us directly using the options below.