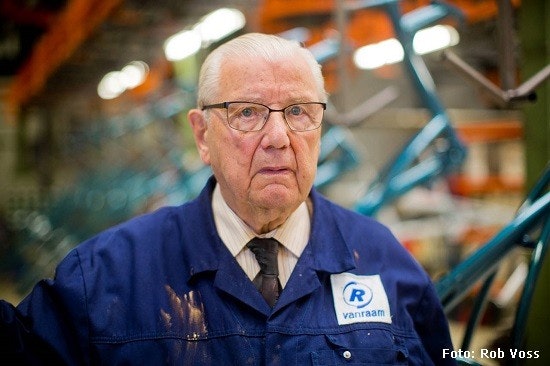 News
Henk Kluver (93) works 70 years at Van Raam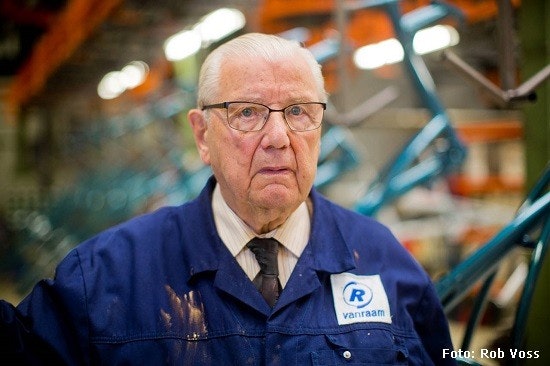 26 of February 2016 was the day that Henk Kluver worked 70 years with us.
80 years ago, 14th of April 1936 Henk Kluver started at 14 years old his career at the bicycle factory Locomotief in Amsterdam. He earned 90 eurocent per week for 48 hours including working on Saturday and 3 day's of per year. 10 years later he changed from job to frame builder Van Raam in Amsterdam. In 1972 Van Raam was forced to leave the building in the Schipperstraat in Amsterdam. Together with Mr. Van Raam he found a good place in Aalten in the "Achterhoek".
 
Mr. heer Kluver at Van Raam
As the second man in Van Raam, Henk Kluver learned all about cycles from Henk Van Raam. Together with the new owner of Van Raam, Piet Boezel, he developed in 1986 a tricycle for a friend who had balance problems after a brain attack. This was the start of a new period for Van Raam and the specialization in special needs bikes.
Oldest employee (Netherlands)
In 2012 Mr. Kluver is already official decorated as the oldest employee of the Netherlands. He received for this fact even a brand new VW Transporter. His  reaction was filmed and had so much humor that is was shown several times on national  TV. The color of the  VW Transporter was black, his reaction when he received it was: "the color is good and my coffin can fit in the back".
93 years old and still working
Henk Kluver works now for 20 hours a week. Each day he will come to Van Raam and he is an icon in the factory. Because of his long career, he knows a lot of each process in the company. Mr. Kluver still attends tradeshows and he likes the company outings of Van Raam. He doesn't want to stop working because he loves his job and the work environment. Also his wife (88 years old) and his children from round 60 years old, like that he is still working. 

When he is asked for his secret how to work that long he has said a lot of nice things: "Humor, I always start the day with a joke. If you change your hobby into a job, your job will be your hobby. I don't like old people, (what I mean:  people who behave like old people). I always say in the factory, there is only one quality and that is good quality, that was in 1939 and that is in 2016 still so. I take care for the lessons of life, that is how I see it."

Mr. Kluver likes to puzzle, painting and white Port. The Ajax fan buys a new car every three years.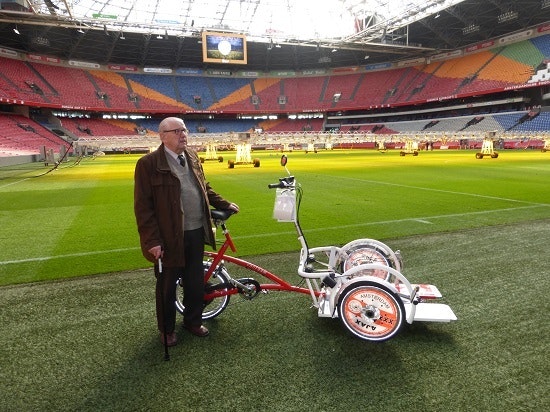 Ajax-wheelchairbike
Last week he delivered a special wheelchair transport bike in  Ajax colors in the Amsterdam Arena, this was signed with all the autographs of the players. Read more about these Ajax-wheelchair-bike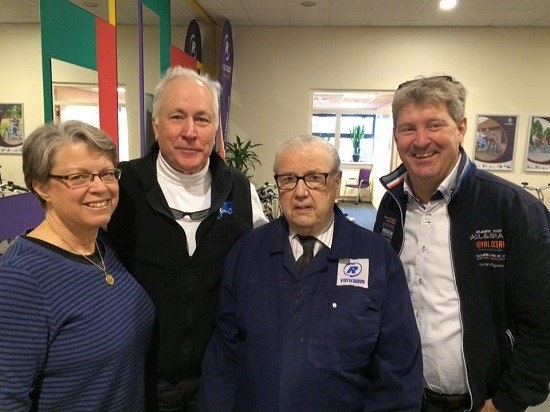 our dealer from the USA (All Ability Cycles), Mr Kluver and Ronald Ruesink (Van Raam)
Van Raam goes to America 
Van Raam is now developing the market in the USA, Mr. Kluver said to us that if it is necessary he will go to the states for Van Raam.  Below you can see a presentation about Mr. Kluver from Van Raam.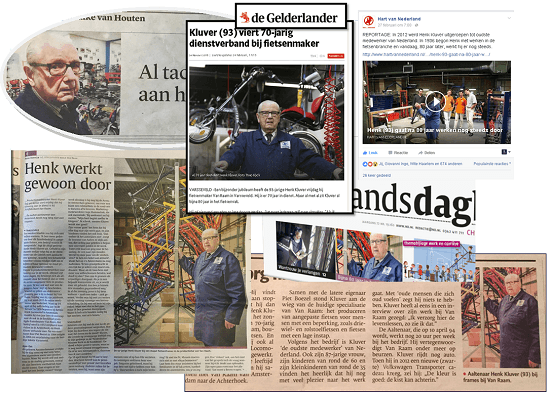 Mr. Kluver in the news
Above you can see the that the TV and newspapers had a lot of attention for this unique event. Below you can see a photo presentation of the party at Varn Raam on the 26 of February 2016.
Mr. Kluver on Dutch television
The left video is from SBS6: Hart van Nederland and the right is from Omroep Gelderland.
Henk Kluver has retired
After having worked for 81 years, of which over 70 years at Van Raam, Henk Kluver retired on January 1st 2018 at the age of 95.
Henk Kluver passed away
With sadness we have learned that former colleague Henk Kluver passed away May 17, 2022 at the age of 100.
Do you have any questions?
We are happy to assist you! Please check our contact page or contact us directly using the options below.