Van Raam bikes in the showroom:
Walking aid City

Low step through bike Balance (42 cm and 51 cm frame)

Two-wheel tandem Twinny

Three-wheel tandem Twinny Plus

Wheelchair bikes OPair and VeloPlus

Tricycles Maxi, Maxi Comfort and Easy Rider

Scooter bike Easy Go

Side-by-side tandem Fun2Go
View all MSC Mierlo customer experiences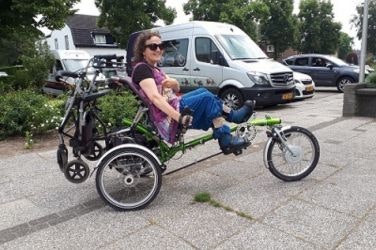 User experience recumbent trike Easy Sport - Gitty Verbaal
I have been happy with my Easy Sport from Van Raam for 6 years now. Before that, I always cycled on a conventional two-wheel bike with coaster brake. Unfortunately, that changed eight years ago. I got more and more pain in my joints and cycling was more and more difficult. The moment of realisation came when I fell with my bike. This happened right in front of a car. The driver wasn't happy with this and it became clear to me that cycling was no longer possible in this way.
Read this customer experience
;