Customer experiences
Customer experience City walking aid - Ton van de Nieuwenhuijzen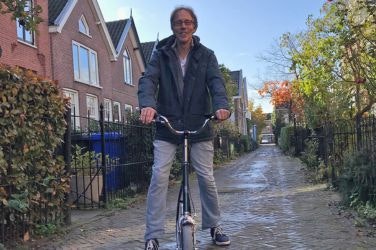 Ton van de Nieuwenhuijzen from Delft, the Netherlands, has metastasized kidney cancer. Because the tumors are also in his legs, it is quite difficult for him to walk. With the City walking aid Ton has increased his range of action and he can walk independently again.
My name is Ton van de Nieuwenhuijzen and I live in an old mansion on the outskirts of Delft city centre. I have treated, metastatic kidney cancer and the tumors are also in my legs, which makes it difficult for me to walk. Before I got cancer I always walked a lot and cycled on my city hybrid and racing bike. Because the possibilities are now limited, I went looking another solution. In my own house I can walk with crutches, but for the longer distances this became difficult. When I came on the track of this walking aid, I immediately ordered it.
From request to delivery
I saw the walking aid at Vegro Thuiszorgwinkel in Delft and asked if I could try it out. This felt familiar. My health insurance company then made an application to Vegro and they delivered the walking aid at my home. Unfortunately no occupational therapist came up with the idea of a walking bike, I took the step myself. If more people are aware of this (health insurances and occupational therapists), they will be able to make proposals to patients sooner to offer a walking bike and thus more people can be helped. The walking aid is really a solution for me.
The best experiences I have is with children who also have a walking bike. I come across them in the supermarket for example.
Ton van de Nieuwenhuijzen
Independant again
I had to wait for almost a month for the walking aid, but now I have it for a couple of months and I am very happy with it. Now I can go into town to the shops, the cinema and the theatre, and even on paved forest paths I can get on well. It is also easy to take the walking bike with me in the car. I notice that my radius of action has increased considerably and I am able to walk on my own again. I use the City walking aid daily, for an average of about 3 km, mostly in the city and sometimes (on bike paths) in the woods. The best experiences I have is with children who have a walking bike themselves. I come across them in the supermarketfor example.
 
Ton van de Nieuwenhuijzen – Delft, the Netherlands
Type: City walking aid