Customer experiences
Customer Experience City Walking Aid - Luzia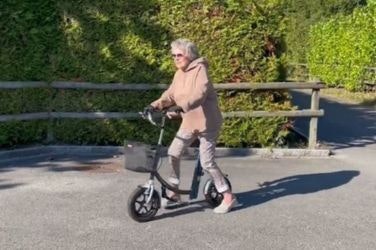 Luzia from Rüschlikon near Zurich has had the City walking aid for one and a half years and is very enthusiastic about it. Through training, she has largely got rid of her back and knee pain. Read her story in this customer experience and watch a video where you can see the City Walking Wheel in motion.
Brief introduction
My name is Luzia, I am 77 years old and live in Rüschlikon near Zurich. One of my many interests in life is the joy of movement. As a result of after-effects of thigh operations, I can walk, but not very well and not for very long. In my younger years I could cycle on a normal bike.
The City walking aid is very safe with its simple but very solid construction, as the feet are always on the ground.
Luzia
The path to new mobility
In the year and a half since I've owned the City Walking Aid, I've become an avid follower of it. During the first lockdown in April 2020, I had a flash of inspiration. Years ago, I saw such a self-made bike for a person with a walking disability in a report and thought to myself, there must be something like that. My research on the Internet led me first to Van Raam and then to the Swiss bicycle dealer Haso. I looked at the customer experiences at Van Raam. Then the very next day I went to Haso in the Tösstal valley and, after trying it out, bought one of those 'Göppel' bikes, as I call them.
My experience so far
I use my walking aid for an almost daily half-hour workout, which is a lot of fun. I can also do my shopping and much more with it. I am probably the only one far and wide with such a bike and I attract a lot of attention with it, unfortunately without any imitator effect so far. I benefit a lot from this bike, it makes you walk weightlessly and my rating for it is clearly a 10!

Watch Luzia's video below.
Video of Luzia with the walking aid City