Customer experiences
Customer experience Maxi tricycle - Pieta Wessels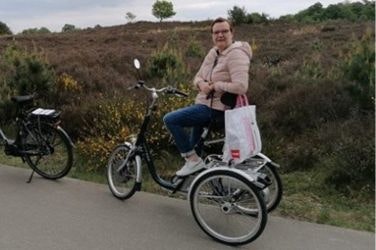 Pieta Wessels (61) has had a cerebral infarction which has affected her balance and makes it impossible for her to cycle a traditional two-wheeler. However, this doesn't stop her from moving, because Pieta is very active and likes to get on her bike to go out (together with her husband). In this customer experience, Pieta tells more about her experiences with the Maxi tricycle.
Let's introduce
Hi, I am Pieta Wessels and I am 61 years old. At the age of 54, I had a stroke and because of that my balance has been affected. I used to work in care, but I have been rejected now. We moved from a single family home to a ground floor home because climbing stairs is also very difficult for me. After my cerebral infarction I cycled on a normal bike for a number of years, but I often fell of the bike because of my balance, so I wanted to look for another solution.
Consultation, test ride, application and delivery
Through the municipality I came into contact with Van Raam. Someone from the municipality visited me on request. She listened to my story and decided I needed another bike. I use the bike often, for example to go to the day care center, for bike rides or to go to the dentist or beautician. The municipality has arranged everything about the bike further. Someone from Meyra, a rehabilitation specialist (dealer of Van Raam), came to me to discuss which bike would be suitable. I could also make a test ride on the bike Meyra brought along. We came to the conclusion that the Maxi tricycle would be the best option for me. Meyra then ordered the bike and everything was arranged very quickly. The service was very good, I had to wait about 2 weeks for the bike and the delivery was also fine, everything was explained clearly.
Cycling a tricycle takes some getting used to in the beginning, but it is a very nice bike and I am very happy with it.
Pieta Wessels
The bike cycles great
I have the Maxi tricycle since May 2019. I like the bike very much and it cycles great. The pedal support is super, I'm cycling a lot faster now than before. I just have to make sure I don't cycle too fast when I cycle around a corner. Now, I keep it at a maximum of 15 kilometers per hour around a corner. Cycling a tricycle takes some getting used to in the beginning, but it is a very nice bike and I am very happy with it.
Special options
In terms of special options I have pedal support and backrest support with a bar and a half round in which my back fits. I also bought a wireless odometer so I can see how fast I'm cycling. Furthermore I would like a suspension in my saddle. I had that on my previous bike as well, which was really nice.
Bike tours through the Netherlands
I use the bike mainly to make bike tours through the Netherlands, together with my husband. We bought a special trailer so we can transport the bike. We even drive to Limburg or to the Veluwe to cycle there. We cycle about 25 to 40 kilometers when we make a bike ride. The trailer is especially for tricycles, but it's also possible to transport 4 normal bikes on it. We bought the trailer at De Boer Aanhangwagens in Pesse, the Netherlands.
Advantages and reactions
I do notice that when I cycle on my Maxi, car drivers take more care of you on narrow roads. They are more willing to pull over in front of you and give way more easily when crossing the road. I also notice that people say hello to me more, which is nice. The other day there way a child who said: "Oh, what a beautiful bike!" That's very nice to hear.
 
Pieta Wessels – Gouda (the Netherlands)
Model: Maxi tricycle