Customer experiences
Customer experience Easy Sport recumbent trike – Heijnders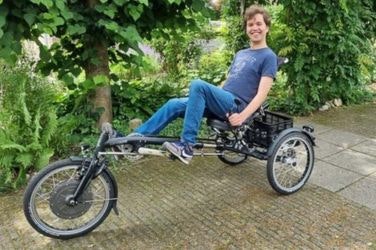 Luuk Heijnders has been riding the Twinny tandem with his parents until July 2020. Yet he wanted to cycle independently and went looking for an alternative, which became the Easy Sport recumbent trike. Read more about Luuk's message to Van Raam.
Specifications
Easy Sport recumbent trike
(RAL 9005) Jet black matt / matt black
Configure your bike
From tandem to tricycle to recumbent trike
Luuk: "I really wanted to be able to cycle independently and came into contact with a bike mechanic in Amersfoort. First I tried the Easy Rider tricycle. The bike mechanic had the bike brought to Amersfoort and I was allowed to try it. After the test ride, I thought about what I wanted at home, but I still had too much doubt. Then my mom saw the Easy Sport recumbent trike. She asked me if I wanted to try this bike and finally I made a test ride with the Easy Sport. It took some getting used to; the handlebars are under your seat and your arms can rest. After thinking about it for a few weeks I decided to buy the Easy Sport and what a good investment! A very nice and cool bike."
I'm extremely grateful and very proud to have achieved this.
Luuk Heijnders
Lots of practice on the Easy Sport recumbent trike
"After buying the Easy Sport, I still had to become traffic-safe. A bike mechanic tipped me off about Annie: a particularly wonderful, sweet woman who gives cycling and traffic lessons. I had to start feeling safe with the bike and learn the traffic rules. At the end of July the recumbent trike was delivered and in August I started cycling lessons. First I started with making turns, turning around traffic cones and feeling comfortable with the bike. After a while I learned to feel safer on the road and learned the traffic rules.

After a lot of practice and just doing it, I can cycle to work independently. Riding my bike with a colleague, going to my grandmother's and so on! I can now go somewhere on my own. I'm no longer tied to my parents. I've gained so much freedom by choosing this bike! I'm extremely grateful and very proud that I have achieved this. We're going to Terschelling with the family in July 2021 and the recumbent trike is going with us. Finally indepenently cross the island.

Van Raam, thank you for producing such beautiful and cool bikes. I'm a very happy and independent user."

Luuk Heijnders – Amersfoort (Netherlands)
Bike: Easy Sport recumbent trike